On-Board R/C Loco Receiver w/Pocket Remote, $99
Complete bundle $228, includes 14.8V 3.5Ah battery,  battery install kit wiring harness, and charger.
35040 Radio Control (R/C) Loco Receiver, 3Amp with Pocket Remote

The 35040 R/C Loco Receiver offers all the operational features of
the R/C Analog Throttle in the 35028 R/C Analog Power Set, with extra benefits:
The R/C Loco Receiver features a compact design which can fit into many G-Scale locomotives.
The Receiver also includes two relay-type function contacts, for activation of functions such as horn/whistle and bell on a separate sound unit.
3.5A Max Continuous Power
The Receiver is designed to be battery-powered (batteries not included).
Receiver can be powered by a fixed, well-filtered DC supply of 7 to 22 volts, such as a DC voltage on the track.
Receiver has simple, user-friendly connections for motor/lighting power and the two function outputs.
Up to 30m / 80′ R/C range, indoors or outdoors. (CR2025 battery included.)
With the 35040 R/C Loco Receiver and batteries installed in your G-Scale loco, the included pocket remote allows you to operate your train virtually anywhere – over dirty track, non-powered track, even across the floor!
Track Power  Radio Control (R/C) Analog Power Set, 5A/120V, $175.00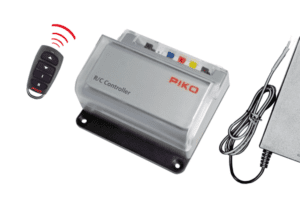 Features
Provides Analog DC track power with the convenience of walk-around R/C control
Includes 22V/5A transformer, R/C-operated Analog DC controller, and pocket remote
Up to 5 Amps of Analog DC power for your trains (4.5A continuous/5A short-term power capacity)
Up to 2A Fixed DC Accessory power
Controller also provides R/C-operated DC accessory voltage outputs
Up to 80′ R/C range (30 meters)
Pocket remote includes a CR2025 battery
Easy-to-use:
No loco modifications needed!
Run ANY train!
Connect the R/C analog throttle to the transformer and to
your layout, put batteries (included CR2025) in the R/C pocket remote,
and be running trains in minutes.
Simple push buttons on the pocket remote give you simple,
precise control of the speed and direction of your analog DC powered
train, plus emergency stop.
Remote offers up to 80′ (30 meter) wireless walk-around range.
8 selectable channels on both the R/C analog throttle
and the pocket remote allow you options
Easy, flexible, powerful, reliable R/C control is here from PIKO for
your Analog DC track-powered layout, indoors or outdoors.