Who we are. Celebrating 34 years converting your engines.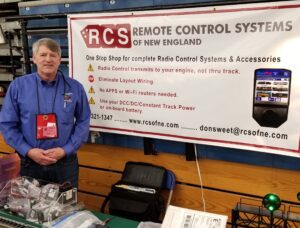 We are train buffs, modelers, restoration enthusiast and just like to run our trains. Having a technical background has helped with using a variety of technology to run our trains. Working for Amtrak provided a good basis for understanding 1:1 railroading. Being a conductor on the Valley Railroad kept me involved with steam Locos. Being a member of several model train clubs gives you the exposure to all scales and operations.
Today with "G" scale trains you can operate outdoors in your garden or yard on rails you have constructed. Using techniques just like the real railroads. This is the next level of fun with modeling trains.
What we do
We offer information about running your trains on battery radio control. Then help you choose the track, choose the best running locos and cars and cool accessories. We will help you procure those items and then test them and install any control systems and sound systems. If you need some on-site work we can visit your location or find a local expert.
Best in Class Customer Service
After you have made your choices you might need some assistance. We are here to make sure you are 100% satisfied. You can call and talk to us about your issue or Skype to show us. We offer a 12 month warranty on all our installs including loco repairs. If your loco develops a problem after it has been converted we will service it under the warranty. Excluding broken parts, bad motors or stripped gears. There is a return shipping charge. We offer three levels of service plans after your warranty. For complete details visit our support page.
Why do business with us.
We have the experience. We service what we sell. Starting in 1989 using the RCS system I converted my first LGB loco, the 2018 Mogul. We've been hooked ever since. We liked the freedom of using battery radio control so much, we started offering systems to members of the New Hampshire Garden Railroad Society and clubs across the country. I have built for myself four different garden railroads and 4 indoor commercial overhead layouts. Today, we specialize in Battery Radio Control conversions for "HO", "S", "O" and "G" scale locomotives including sound systems and lights. Through our associates, we can provide customizing of your engine.
Contact us today for a quote on your specific locomotive.