How to safely use your Lithium batteries
Each MTO lithium battery is assembled with 22 GA silicone wire, JST locking 2 pin connectors and all connections are spot welded. Each assembled pack includes the latest version of the Protection Circuit Module or PCM. This PCM prevents Overcharging, Over discharging, Short circuit protection of the red/blk wires and up to 12 month shelf life without damaging the lithium battery.
Video, why MTO Lithium battery packs are safer
Sizes of Lithium

Battery P

acks for G, O, S, ON30 & HO scale
Choose the battery that will fit your space. Select voltage then runtime which is rated in amp hour (Ah).  Most G & O scale locos draw 1-2 amps per hour or per motor.  ON30 & HO less than .5 amps.
Smaller packs for G, ON30 & O scale engines. Offer 1 hour runtime.
Smallest packs for HO scale locos
Train-32, 11.1V .8Ah Size: 98mm long  x 16mm wide x 28mm high. To fit inside dummy units or steam tenders. or 40′ box cars @$49.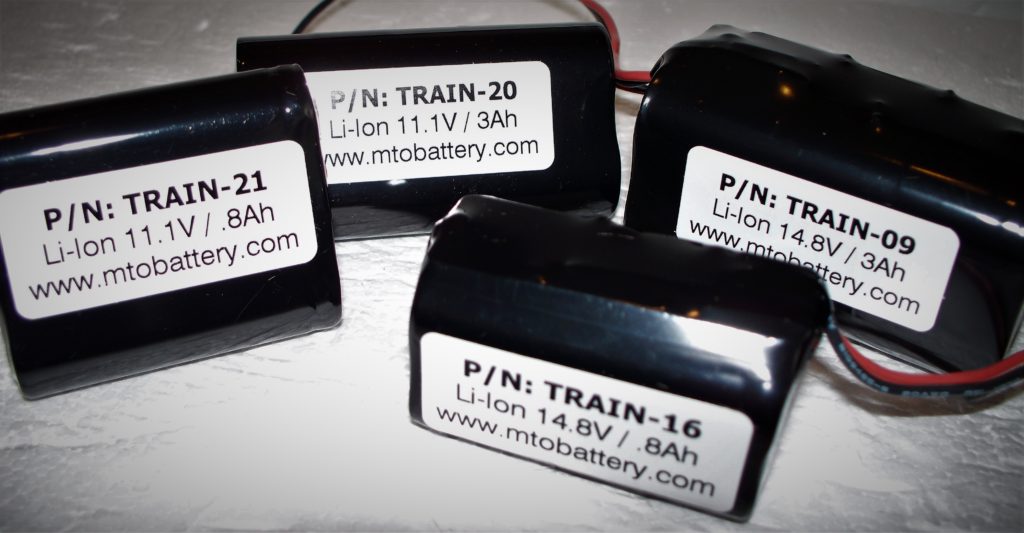 Video, why MTO Lithium battery packs are safer
Chargers explained
We offer two brands of Chargers.  MTO who assembles the battery packs and Cell-Con a leading manufacturer of medical grade chargers. Lithium battery chargers are selected based on voltage of your battery packs. These chargers will automatically start charging and when finished disconnect from charging.
As a safety tip never leave the charger plugged into your model engine and connected to the AC outlet longer than the charge cycle. You must Monitor the charger. When LED is green unplug charger cable from Loco charge jack and unplug AC cord  from AC  outlet.
How long will it take to Charge? Depending on which battery pack you selected, the charge time will vary from 1 hour to over 7 hours. These chargers use a 1 amp rating. That means if you select the Train-09, 3.5 amp battery, divide by 1 amp and it will take 3.5 hours to charge this pack.
Select the MTO lithium smart charger for battery packs with 1-4 cells. This smart charger will charge 1-4 cells or 3.7V-14.8V lithium battery packs. Plug in the AC power cord. The LED flashes red to green twice then goes off. Plug in your charge cable into the loco charge jack. When charging the LED is red. Turns green when finished.  Unplug both charge cable and AC cable when done.
Select the Cell-Con lithium smart charger for 5 cell or 18.5V lithium battery packs. Plug in the AC cord. The LED will be green. Plug your charge cable into the Loco and the LED changes to red during charging.  The LED changes to green when finished. Unplug both charge cable and AC cable when done.
Battery Install Kits for G & O Scale Engines

Battery Install Kits are pre-wired on/of switch and charge jack harnesses. This make your install neater and assures the correct wiring.
Here are three types listed below for O & G scale engines.
A. Basic Battery Install Kit. Pre-wired on/off switch, red/blk flexible silicone wires with 2.5mm charge jack. $20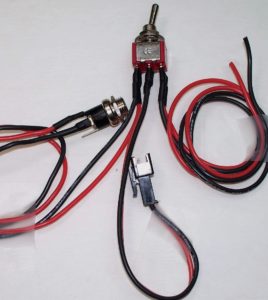 B. Battery Install Kit with Back Up battery connection for extra runtime. Prewired on/off switch, using flexible silicone red/blk/white wires with charge jack. $25
Choose this style for extra runtime. Similar to  basic with Three wires attached to the charge jack. Mount additional battery in a trailer car. Just plug the additional battery into the charge jack for more runtime. The loco battery is then disconnected, saving it for return trip.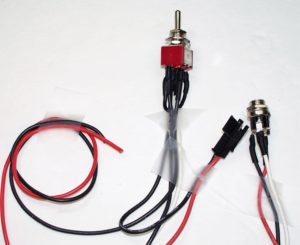 C. HO models need to be custom to fit.  Click here to see HO installs. If you use a 50′ box car or larger you can mount the battery, on/off switch  and charge jack.
Battery Price List
To Download and Print :

CLICK HERE