Select a control system for your HO, ON30, S, O & G Scale engines.
1).  Select from three styles to match your needs. 
A. Basic PIKO R/C Sender with Key Fob transmitter. 
B. Revolution transmitter with a black/white display to control up to 50 trains.
C. RailPro full color touch screen with High Def sound to control all scales.  
These transmitters control all train movements, lights and sound effects. The transmitters are on 2.4Ghz frequency. Select up to 50 engines on the Revolution transmitter and Unlimited number using the RailPro transmitter for HO to G scale. 
PIKO basic R/C sender includes transmitter (Key Fob) with each receiver. $99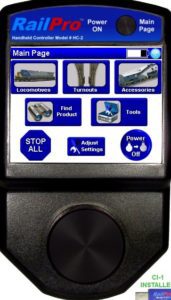 RailPro HC-2b hand controller, $270. HC-2B-SUN for out door display, $290.
Click here for RailPro information and view videos.
2). Next add a Receiver or Loco Module. This is the main circuit board. Powers the engine and has the radio receiver. All connections for lights, motors and sounds are made here.  Also called a DCC Decoder. However, most decoders do not have a radio and you need to buy an additional circuit board which takes up space.  We do not suggest those systems. 
3.)  Add the battery. Select the  battery based on the scale/space available inside your engine. For HO/ON30/S choose the smaller 11.1V packs.  For O & G scale choose from 14.8V to 18.5V packs. Runtime is up to 4 hours on small scale. 1-6 hours on large scale.
4). Choose the Battery Install Kit to fit your engine. For HO, ON30, S, O scale & G scale installs you can select the standard BIK or Battery Back Up Kit.  The Battery Back up Kit supports using a second battery mounted in a trailer car for additional runtime. Any size battery can be used.
5). Options. Sound and adding new LED headlights, Ditch lights etc.
6.) Chargers are included to match the Lithium battery.
7). Last choice is to decide if we do the installation for you or purchase the DIY kit specific  for your engine.
8.) Final step is to contact us to order your kit or send us your loco for installation.
---
FAQ's
1. WHY ON-BOARD Battery Radio Control for your trains?
No more spending 20 minutes each time cleaning track!
No more jerky running locos and flickering lights
No more buying expensive rail clamps!
No more buying expensive rail!
No more running heavy duty expensive wire underground or jumpers around your layout.
Yes to multiple locomotives/trains on one track!
Yes to remotely trigger sound systems!!
Yes to bi-directional constant lighting!
Locos run smoother, pull more cars and require less maintenance.
You can operate your trains in a realistic way.
Yes to year-round operation!
Yes to more fun!
2. How long will the battery run?
a) For G scale expect 3 hours for the standard battery or up to 6+ hours.
b). For ON30 & O scale 3-8 hours. It depends on the space to fit the largest battery.
3. My loco is too small?
a) Today most any locos can be converted. The battery is shaped to fit our trains. Now with smaller batteries and RailPro Wireless Control tiny locomotive modules, "HO" and "ON30" can be converted.
b). "HO" locos need a dummy engine or B unit for the battery. Some "ON30" Bachmann tenders can hold the battery. If not enough space use of a trailer car is necessary to hold the battery.
4. If there is no room inside the loco how do I use battery power?
a) You can use a trailer car. Like a box car or passenger car to install all the gear. Then use a connecting cable to power the Loco.
5. Can I still use track power for my other Locos?
a) Yes. The converted loco is isolated from the track power. This Loco can chase any of your track power locos.
6. Can I still use DCC or constant power thru the track for accessories?
a) Yes. Any DCC equipped locos will still operate or accessories/signals from track power.
7. Can I convert three rail locos?
a) Yes, only the later models that use a DC can motor.
8. Can I use both track power and battery radio control to operate my Loco?
a) Yes, by adding a selector switch with additional wiring. Contact RCS of NE for specific information.
9. Can you use any sound systems?
a) Yes, any non-DCC sound system will work. Phoenix, Dallee, ITTC, MyLocoSound.
b) RailPro Wireless Control for HO, ON30, S, O & G engines includes built-in sound.
11. Do you have remote couplers?
a) Yes we offer the Phoenix for "G" scale Locos and Lionel for "O" scale.
12. Can you control remote track switches?
a) Yes, the RailPro accessory module is compatible with Piko, LGB, ProDrive, Tortoise.